3000 Wheels Ride on 30th
This is Cheryl's great colour poster! Print it out. Currently it is a high res jpg file suitable to print two, side by side on a large 11x17 poster.

Bev's poster new for 2006 Classic!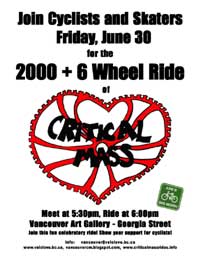 Friday, June 30th is fast approaching. We've still got lots of inviting to do if we want this to be the BIGGEST RIDE EVER and invite 3000 skaters, cyclists, and other pedal powering funsters.





I've done some gravedigging and rehashed 10 posters/flyers to print up and hand out. They are in various sizes from big ol' 11"x17" posters to quarter sheet handbills and everything in between. Be careful when you print multiples to leave enough room for the borders to cut inbetween the copies. Also, some are pretty minimal with information and you might want to add things to them. These are all Adobe PDF format files [download free reader] which should be easy to print, I hope.

Now, go forth and multiply!!!




single giant
This is meant to be printed on 11x17 but for some reason I think the image is only 14" long so you can stretch it or fill the space or, blank space is relaxing.
[warning large file ~6mb]


double
This is printed on 11x17 and then cut in half to make two long narrow posters, perfect for light poles!


[warning large file ~7mb]


ladylong
This is from 2000+4 resurrected and is the same long 5.5"x17" proportions... Except that like the one above it is only 14" long so stretch it or leave blank or...
[warning large file ~2mb]Or print the Combo file martin3000+ladylong both fit onto 11"x17"

[warning large file ~2.7mb]


martin3000
I think martin designed this for the 2003, 1000 wheels ride. I remade it. It is 17" long double. Classic.


one way?
I made this years ago but it seems to get more timely all the time. Just normal sheet landscape [8.5"x11"]
Or print the Combo quartersheet file
oneway+drseuss+crush+velolove

drseuss
June 2002 was supposed to be a Dr.Seuss themed ride but it never happened because it rained. Why not dress up as Dr.Seuss or ride a crazy Dr.Seuss chopper? This could be full page 8.5"x11" or you could squeeze 4 on one page.


redsara
made this wonderful one for this year and it lists all the different types of bikes. 2 fit on a normal sheet, the proportion is 5.5"x8.5"


emily
Emily made this fun little quarter sheet handbill

Or print the Combo file redsara+emily


cartoon
Another rehash. I like cartoons.


[warning large file ~1.5mb]




skeleton
This needs more detailed information but you can write that yourself. I figure it makes a nice quarter sheet handbill landscape.


crush
Going way back to Bikesummer 2001 this poster is about size. Quarter sheet handbill.


velolove
The classic Summer of Velolove Redux. Handbill.

Hey, soon we need to handout handbills on the bike route. Who is up for poster bike ride parties with a tape gun or some wheat paste? Fun, fun, fun!